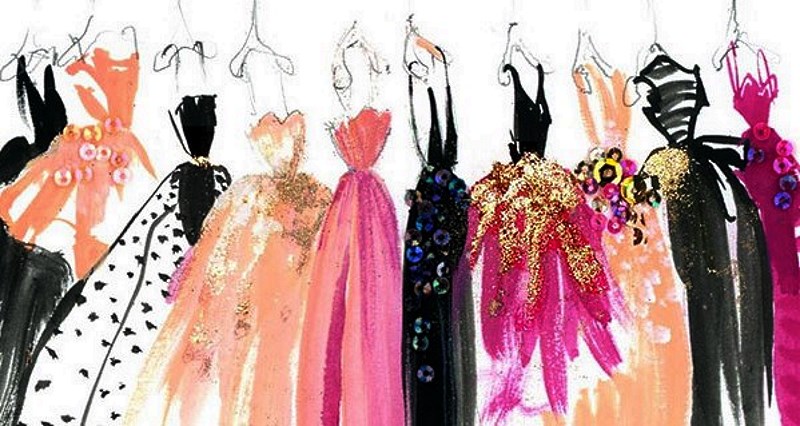 Designers Collections 2018
As a practising fashion designer it's important that I stay up to date with current trends and what the biggest fashion houses in the world are doing. Keeping up with upcoming styles is key to staying on the ball when it comes to designing beautiful clothing, and knowing how to adapt the catwalk looks for a mainstream audience is essential. Many people make the mistake of thinking that the clothes we see on the catwalk at the biggest fashion shows of the year have been designed for everyday wear, and quite often, customers say to me "who on Earth would wear that dress!" The facts are that catwalk designs are meant to be inspirational, they aren't meant to be worn in their current form. It's up to mainstream designers who create clothes for high street stores, and, of course, bespoke creators like me, to take the concepts behind those outfits and translate them into something more suited to everyday wear that is accessible to the average person on the street.
To make sure that I'm staying in touch with the heart of the fashion world, I try to get to the major fashion shows throughout the world, and next year, I'd like to go to as many of the major fashion weeks as I can. While I would love to go to all of them, I don't think my budget can stretch that far! There are so many different fashion weeks out there, each showcasing something completely different, from womenswear to menswear and from high street designs to high end couture. Of course, no one designer can do it all, so instead, I'm settling for going to three of the best – London, Paris and Milan.
London Fashion Week 2018 kicks off on 16th February and lasts until the 20th. This year's womenswear show is showcasing diversity in fashion. Although the list of designers hasn't yet been released, it's fairly easy to guess whose collections will be in evidence. Amanda Wakeley, Burberry, Emporio Armani, Emilia Wickstead, House of Holland, Jasper Conran, Joseph, Julien MacDonald, Pringle of Scotland and Tommy Hilfiger are just some of the names that I can expect to see being showcased at the event.
It'll be a quick turnaround for me, since Milan Fashion Week begins on the 21st February! Although I'm not yet sure of the exact schedule some of the designers who traditionally show their designs at this event include giants like Gucci, Prada, Versace, Alberta Ferretti, Max Mara, Fendi, Moschino and Bottega Veneta. I'm looking forward to see what they have to offer for the Autumn/Winter 2018 season.
Once more, I'll be having a sharp exit from Milan, since I need to be in Paris for the 27th February when Paris Fashion Week begins. This is really the biggest event of them all, and I just can't wait! I haven't been to Paris Fashion Week for a few years, but it really does have a unique atmosphere, and is one of the places to see and be seen, especially for upcoming designers. Again, the schedule hasn't been released for the week yet, however I'm confident that I'll be seeing work from all of the greats: Givenchy, Celine, Balenciaga, Saint Laurent, Comme des Garcons, Stella McCartney, Chloe, Chanel, Christian Dior, Alexander McQueen Miu Miu and Louis Vuitton. I'm expecting to see an exciting collection of eclectic styles which will inspire me for next year's winter season.
Apart from the major shows, I'm going to try to get to as many fashion events close to home as possible. This year, I took a week off in September to go to the London Fashion Week to see the 2018 Spring/Summer collections being presented. It's wonderful that I live so close to such a major event in the industry, and I consider myself very lucky to be able to see the collections close up. Although I didn't get to see all 90-something shows (I'm not superwoman!) I did get to see some of the highlights of the occasion including the Tommy Hilfiger show. This was the first of its kind, since the New York designer was presenting with supermodel Gigi Hadid in the UK for the first time ever. I also managed to get to the opening of the Emporio Armani flagship store on Bond Street to see Giorgio Armani presenting his new collection in the UK for the first time.