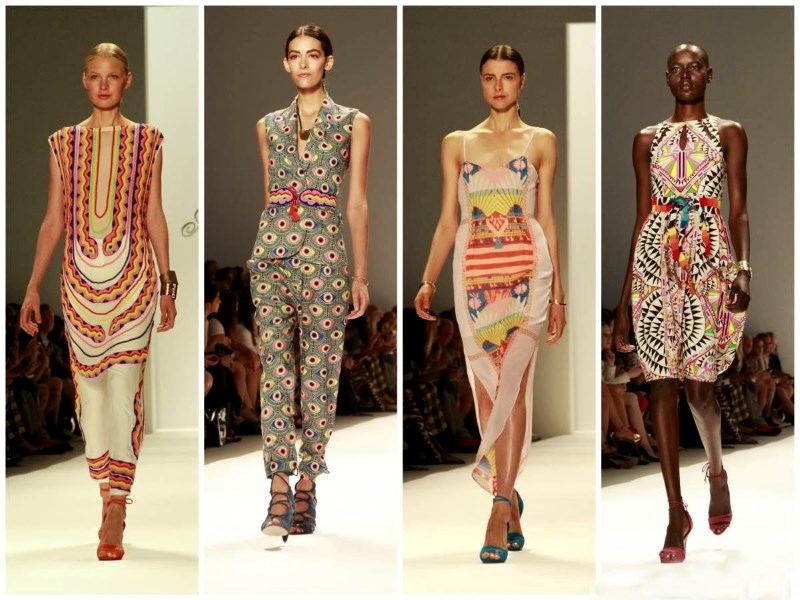 Recently, I've had a number of clients who have asked me to design dresses for them based on a world clothing theme. Over the last few months, for example, one client came to request a kimono-style dress for a Japanese themed anniversary party, while another came for an Indian themed outfit that would be appropriate for attending a Hindu wedding. While I relished these opportunities, which allowed me to try my hand at something completely different and to exercise my creativity, I was concerned that my designs should not be offensive to the communities and cultures from which I was borrowing my ideas. In the end, I chose to create modern designs which take a contemporary twist on the traditional concepts.
Of course, taking inspiration from global fashion is nothing new, and the top fashion houses have been taking their ideas from as far afield as Africa, South America and Asia for their collections for generations. Cultures from around the world have been wearing traditional dress, both for everyday and formal occasions, for as long as written records have been kept, and many of these authentic costumes are still worn today. While some are reserved solely for special events, for example the Japanese kimono, others, such as the hijab, are regularly worn on a daily basis.
Japanese Formal Wear
Interestingly, in Japan, there are two distinct styles of formal wear in existence today. While the morning suit has pretty much fallen from favour in the UK, except for very traditional weddings, in Japan it is one of the most popular choices for formal events for men, and especially at weddings. Kimonos, however, still remain a popular choice for male formal dress, especially when it comes to festivals and ceremonies. These are often highly patterned with images of dragons, koi carp, bamboo canes and geometric style masculine patterns. The background colour of the man's kimono will generally be conservative, with black being considered more formal. For women attending formal function, either a western style cocktail dress or formal gown would be acceptable or a traditional kimono. Uchikake and shiro-maku kimonos are worn for wedding ceremonies and furosode kimonos are worn by younger women for their coming of age and 19th birthday ceremonies.
Indian Formal Wear
Chinese Formal Wear
Scottish Formal Wear
Fashion Designers Using Traditional Dress Concepts
Many modern fashion designers have taken their inspiration from traditional dress from around the world and have made it fashionable again by incorporating elements of these authentic costumes into more contemporary looks. Some examples of leading designers who have adopted this strategy include:
Dew Hwang (Hwang Yi-seul)
Known for her exciting contemporary take on the Korean hanbok, Hwang Yi-seul has put a modern twist on the iconic trousers or long skirt with cropped jacket combo which dates back for thousands of years. Her Leesle line is named for the people who traditionally made Korean dresses and showcases the hanbok's history, incorporating its elements into casual everyday garments for both sexes.
Born in Kyoto, this Japanese designer is known for taking a modern twist on the traditional kimono. Using the traditional techniques, Saito has updated the kimono for the 21st century using fabrics with rich patterns, neutral and bold colours and quirky patterns.
Born and raised in Delhi, Rimzim Dadu designs textiles and clothing, and is especially known for her creative and modern saris, including those which are made from chiffon which has been cut into long strips and then made into cords for a unique look.