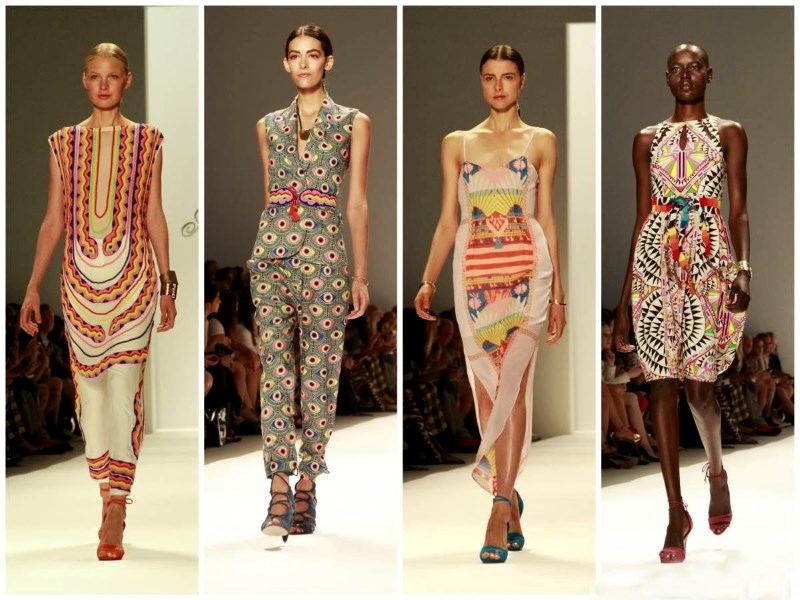 Recently, I've had a number of clients who have asked me to design dresses for them based on a world clothing theme. Over the last few months, for example, one client came to request a kimono-style dress for a Japanese themed anniversary party, while another came for an Indian themed outfit that would be appropriate for attending a Hindu wedding. While I relished these opportunities, which allowed me to try my hand at something completely different and to exercise my creativity, I was concerned that my designs should not be offensive to the communities and cultures from which I was borrowing my ideas. In the end, I chose to create modern designs which take a contemporary twist on the traditional concepts.
Of course, taking inspiration from global fashion is nothing new, and the top fashion houses have been taking their ideas from as far afield as Africa, South America and Asia for their collections for generations. Cultures from around the world have been wearing traditional dress, both for everyday and formal occasions, for as long as written records have been kept, and many of these authentic costumes are still worn today. While some are reserved solely for special events, for example the Japanese kimono, others, such as the hijab, are regularly worn on a daily basis.
Japanese Formal Wear
Interestingly, in Japan, there are two distinct styles of formal wear in existence today. While the morning suit has pretty much fallen from favour in the UK, except for very traditional weddings, in Japan it is one of the most popular choices for formal events for men, and especially at weddings. Kimonos, however, still remain a popular choice for male formal dress, especially when it comes to festivals and ceremonies. These are often highly patterned with images of dragons, koi carp, bamboo canes and geometric style masculine patterns. The background colour of the man's kimono will generally be conservative, with black being considered more formal. For women attending formal function, either a western style cocktail dress or formal gown would be acceptable or a traditional kimono. Uchikake and shiro-maku kimonos are worn for wedding ceremonies and furosode kimonos are worn by younger women for their coming of age and 19th birthday ceremonies.
Indian Formal Wear
Indian fashion is well known for its elegant drapes and intricate designs, enhancing a woman's natural beauty while enabling them to perfectly express facets of their personality. When it comes to formal wear, although women sometimes choose to wear western garments for parties and weddings, they are more likely to choose a saree, salwar kameez or lehenga choli. The saree is an attractive draped garment consisting of a cloth which is pleated around the waist before being wrapped over a shoulder and around the body. A long or short sleeved blouse is worn underneath this item and the colours are often very bright and appealing. The ornate lehenga choli is worn for festivals and ceremonies and looks extremely luxurious with lots of embellishments such as sequins, stones and beads. Usually, the design will incorporate traditional motifs such as flowers, leaves, birds and fruit and they will be made from high quality materials like silk and satin.
Chinese Formal Wear
Traditional dress has changed very little in China when it comes to formal occasions, and women still frequently wear the Cheongsam for celebrations, festivals and other important events. The Cheongsam is a tight fitting silk or satin dress with a high mandarin collar and fitted waist. While once worn every day, they fell out of common use in the 1940s, and indeed until the 1980s were considered to be "ordinary". However, today, there has been a complete turnaround in opinions and now the Cheongsam is almost exclusively worn for formal occasions like weddings. Often worn in red, thanks to its lucky connotations, there are two styles of Cheongsam on the market. The Beijing style is more traditional, with authentically embroidered patterns, while the Shanghai style is more modern and incorporates western elements with the traditional shape.
Scottish Formal Wear
For Scottish men, the ultimate in formal wear is the traditional kilt and sporran (although what a gentleman wears under it is a question that is best not asked!) The knee length skirt, known as the kilt, is worn in the appropriate tartan for the wearer's clan, together with a Bonnie Prince Charlie jacket, a matching waistcoat with 3 buttons, a white wing collar shirt, diced pattern knee length wool socks to match the kilt, and a pair of buckled brogues. The sporran should also be worn – an ornamental pouch with a silver chain worn over the kilt. Although this costume dates back to the 17th century, it is still very much in evidence at formal events such as weddings and balls today, with Scottish men (and many men who can trace their ancestry back to Bonny Scotland) choosing to wear the kilt.
Fashion Designers Using Traditional Dress Concepts
Many modern fashion designers have taken their inspiration from traditional dress from around the world and have made it fashionable again by incorporating elements of these authentic costumes into more contemporary looks. Some examples of leading designers who have adopted this strategy include:
Dew Hwang (Hwang Yi-seul)
Known for her exciting contemporary take on the Korean hanbok, Hwang Yi-seul has put a modern twist on the iconic trousers or long skirt with cropped jacket combo which dates back for thousands of years. Her Leesle line is named for the people who traditionally made Korean dresses and showcases the hanbok's history, incorporating its elements into casual everyday garments for both sexes.
Born in Kyoto, this Japanese designer is known for taking a modern twist on the traditional kimono. Using the traditional techniques, Saito has updated the kimono for the 21st century using fabrics with rich patterns, neutral and bold colours and quirky patterns.
Born and raised in Delhi, Rimzim Dadu designs textiles and clothing, and is especially known for her creative and modern saris, including those which are made from chiffon which has been cut into long strips and then made into cords for a unique look.