My Thoughts On Fashion Trends 2018
Although we haven't yet come to the end of 2017, the fashion world is always 10 paces ahead of the rest of society. Already, well known designers have been releasing their concepts for the Spring/Summer 2018 season, and, believe it or not, I've already had customers asking me what I advise for formal wear for next year's black tie events.
While it's difficult to judge precisely what is going to be in style in over 6 months' time, I've been looking through the releases from the top fashion houses and I'm going to hazard my guesses at the hot formal looks for 2018.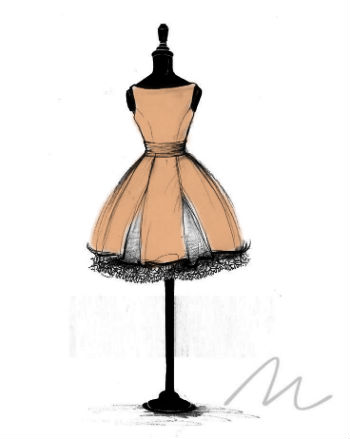 The Return of the Ball Gown
Dolce & Gabbana, Delpozo, Emilia Wickstead and Oscar de la Renta all graced their catwalks with glamorous full length ball gowns for the 2018 spring/summer season. Multiple layers of tulle fabric paired with inflated hemlines and vibrant colours brings a touch of optimism to next year's formal events. Floral fabrics are going to be especially prevalent, with silks, satins and netting underskirts playing a key role at black tie occasions. Asymmetrical hemlines are also making a comeback, with high splits, featuring tasteful netting beneath to avoid exposing too much skin.
Unusual Hemlines are the Order of the Day
Although formal gowns are traditionally floor length, according to the world's top fashion houses, next year black tie ball gowns will be mixing it up a bit. Ankle length puffball skirts, elegant ballerina length full skirts and even, rather unusually, hooped gowns have all been spotted on the catwalk this autumn.
Bandeau and Cold Shoulder
Once considered a little inappropriate for a very formal occasion, the bandeau full length gown has really taken off once more in a big way for 2018. The catwalks have been full of off-the-shoulder styles, with the rather casual cold shoulder look taking a more formal tone for next season. This style has been seen in numerous types of fabric, from shimmery satins and silks to stiff taffetas and dramatic netting. Whether in traditional muted black, contemporary bright blue, floral prints or two tone fabrics, getting your shoulders noticed next season will be all the rage.
Japonica and Far Eastern Style
For those who are looking to add a touch of the exotic to their evening wear, the Japonica style is the ideal choice. High mandarin collars, paired with beautiful oriental silks and stylish kimono cuts have come together in a very wearable look that works well for all kinds of occasion, from weddings to parties.
With so many different styles of formal wear on the rise for 2018, it's almost impossible to get it wrong, so choose something that you feel comfortable with and that flatters your shape for a gorgeous and elegant 2018 formal event.
Formal events aren't all about the ladies, so what will next year's best dressed men be sporting at weddings, parties and celebrations? Although the standard tuxedo will never go out of style for black tie occasions, light coloured jackets will be leading the way in 2018 for occasions such as the races and weddings. Colours such as pale greys, light blues and even creams, paired with lightly patterned waistcoats in a complimentary fabric will look stylish and in keeping with the spring/summer season. For those who prefer their look to be a little more traditional, royal blue is slowly overtaking the more traditional black for a softer and more sophisticated look without looking like you're attending a funeral. Another unusual trend which looks set to take off in 2018 is the checked suit, although this may be a step too far for the more conservative gentleman. Blue and grey checked patterns made an appearance on the catwalk as part of next year's collection and may be worth considering for the right occasion if you're feeling flamboyant.
Saturated Colours and Brights
For those who have the confidence to carry it off, vibrant colours have dominated the catwalks for next spring and summer. Neon pinks, fluorescent yellows and bright greens all appeared in abundance, in the form of formal tailored suits, floor length gowns and sassy cocktail dresses. Satin is the material of choice for these bright outfits, thanks to its fluidity and elegant drape, and the liquid look has been extremely noticeable among many of the biggest names in fashion.
Anyone who feels that they aren't quite ready to go all out for next season's brights can go for one of the season's other hot looks instead. Pastel trends were also prevalent on the catwalk, with romantic florals in pale pinks and blues leading the way in both semi-formal and black tie occasion wear. When paired with one of this year's favourite fabrics, tulle, the look is soft and appealing, and looks especially wonderful for outdoor events and weddings.